Behavioral marketing is the strategy of targeting leads or customers based on specific actions they take on a website, rather than just the pages they view. Then, marketers use behavioral segmentation to target specific consumers based on the actions they take.
Rather than throwing a bunch of ads at consumers and hope some of the marketing message sticks, behavioral marketing takes information like browsing and search history, IPs, and cookies and uses this information to build a definitive profile of the user, and then tailor marketing messages accordingly.
Types of Behavioral Marketing (with Examples) 
Behavioral marketing encompasses a wide range of marketing strategies, including retargeting (also known as remarketing), email marketing, product suggestions, and much more.
All of these are facets of behaviorally-based targeting and can be used as standalone strategies or coupled together for even greater effect on your target audience.
Retargeting Behavioral Marketing Examples
Retargeting and remarketing consider the pages and products you've viewed, and then show them again even if you're not on the original website. Both Google and Facebook offer retargeting options in their respective advertising platforms.
You'll need to think about which segment of your audience you want to retarget and what kind of offer you want to present.
Behavioral Segmentation Email Marketing
Behaviorally-targeted email is another example of behavioral marketing. Instead of using the pages that users visited or the actions they took on those pages, behavioral targeting via email targets users based on their status or actions with the site (whether they're subscribed, added an item to their cart, and so on).
Nordstrom
Nordstrom shows you the item(s) in your cart and lets you view your bag directly. However, this cart recovery ad could still be improved by linking to a method of contacting support or live chat so the user can get answers to any questions that might be holding them back from converting.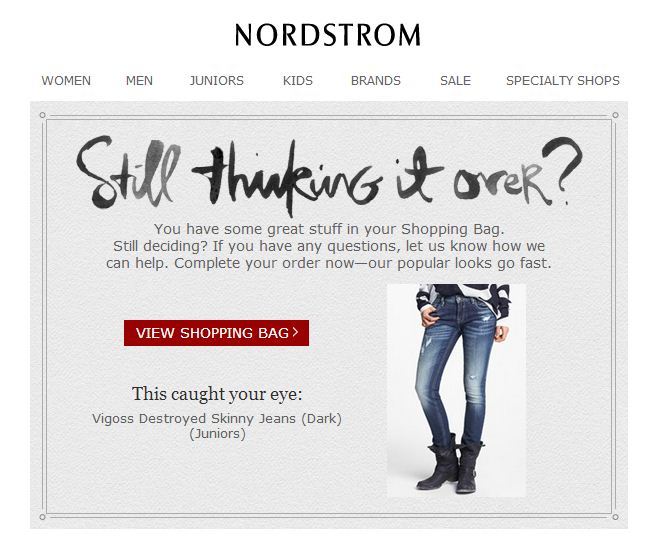 Birchbox
Here's an example retention email sent to users who unsubscribed from the Birchbox service with a 20% off discount for rejoining the subscription service.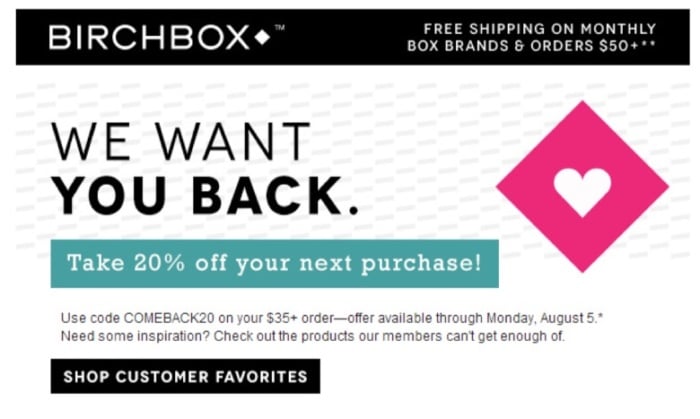 Demographic Targeting Behavioral Marketing Examples
This is one of the most common types of behavioral targeting and looks at things like gender, age range, education level, geographic location, race, and other traits to "paint a picture" of a user based on their browsing habits.
Of course, advertisers are keen to leverage these differences and often repackage and rebrand their products accordingly.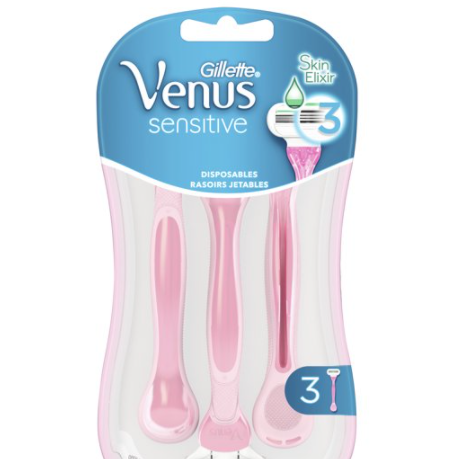 Note: There has been pushback against extremely gendered packaging, like Bic for Her, a pen marketed specifically for women. Be careful not to over target and push your audience away.
Even when you're not online, demographically-targeted ad examples are all around you.
Toyota
An ad promoting the fuel efficiency of the Toyota Prius targets consumers looking for ways to reduce their impact on the environment.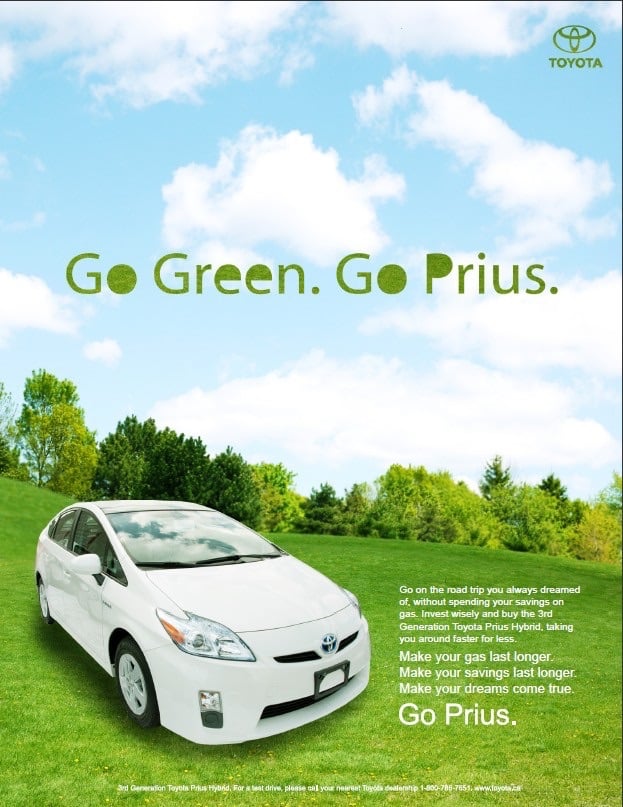 Pepsi
A "skinny" can of diet Pepsi targeted women trying to watch their calorie intake.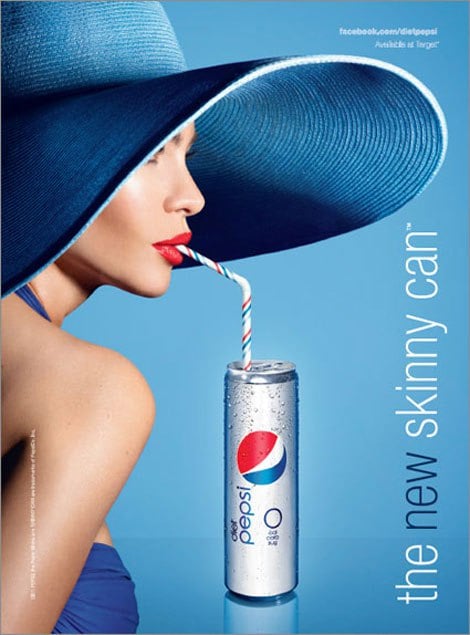 Not surprisingly, you can target your behavioral marketing ads to users' specific demographics, right down to their professed interests. Facebook has turned this kind of targeted advertising into a fine art.